Star Wars: Legion - Upgrade Card Pack II do listy produktów »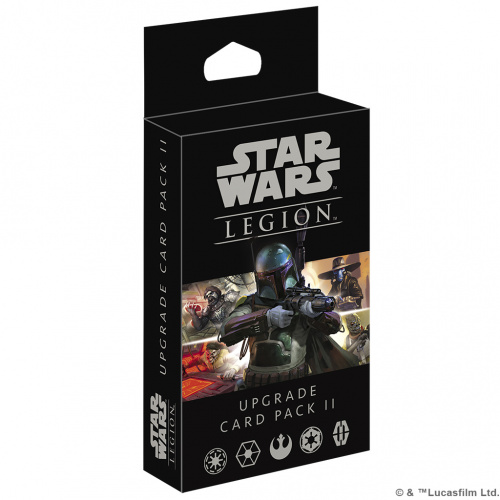 SCD (brutto)

przedsprzedaż do: 17.06.2022


54,95 zł
Dodatkowe informacje:
Wydawca:

Atomic Mass Games

Wydanie:

angielskie
Najsłynniejsi najemnicy galaktyki
Players can hire some of the most infamous mercenaries in the galaxy to join their armies with this card pack for Star Wars: Legion! The Star Wars Legion: Upgrade Card Pack II contains updated unit cards for notorious bounty hunters Boba Fett, Bossk, Cad Bane, and even the A-A5 Speeder Truck that make them playable using the new mercenary rules introduced with the Shadow Collective Starter Set. Additionally, players will also find copies of the three new command card for use with mercenary units from the Shadow Collective Starter Set.
Finally, this pack also includes a selection of 60 upgrade cards designed to help them get the most out of their mercenaries, including the new cards introduced in the Shadow Collective Starter Set.
Star Wars Legion: Upgrade Card Pack II includes:
3 Command Cards

1 Ploy
1 Aggression
1 Discretion

5 Unit Cards

2 A-A5 Speeder Truck (Mercenary)
1 Boba Fett (Updated)
1 Bossk (Updated)
1 Cad Bane (Updated)

60 Upgrade Cards

1 Lead by Example
1 Underworld Connections
3 Up Close and Personal
3 Emergency Transponder
4 Prepared Supplies
2 Sonic Imploders
1 Raiding Party Leader
2 Frenzied Gunner
2 Smoke Grenades
2 Integrated Comms Antenna
4 Offensive Push
3 Ascension Cables
2 EMP "Droid Poppers"
4 Situational Awareness
2 Command Control Array
2 Portable Scanner
1 Defensive Stance/Offensive Stance
2 Seize the Initiative
2 Onboard Comms Channel
1 Vigilance
1 Inspiring Presence
2 Force Barrier
2 Burst of Speed
2 Force Lift
3 Into the Fray
3 Protector
3 Hacked Comms Unit
pokaż pełny opis...
ukryj pełny opis...